The Silent Threat: Safeguarding Your Business from Data Loss
In the digital age, where information is a prized asset, the term "data loss" resonates with a sense of vulnerability that organisations and individuals cannot afford to lose. Data loss, in the context of organisations, transcends the mere misplacement of files or documents. It represents the perilous vanishing act of important or sensitive data, a disappearance that can trigger a domino effect of consequences. What exactly is data loss, and how does it occur? Let's delve into this blog.
Understanding the Data Loss Landscape
What is Data Loss?
Data loss in terms of organisation means losing important or sensitive data that is essential for business operations, performance, or reputation. Data loss can have negative impacts on an organisation, such as business disruption, financial loss, reputation damage, competitive disadvantage, legal and regulatory compliance.
How does data get leaked?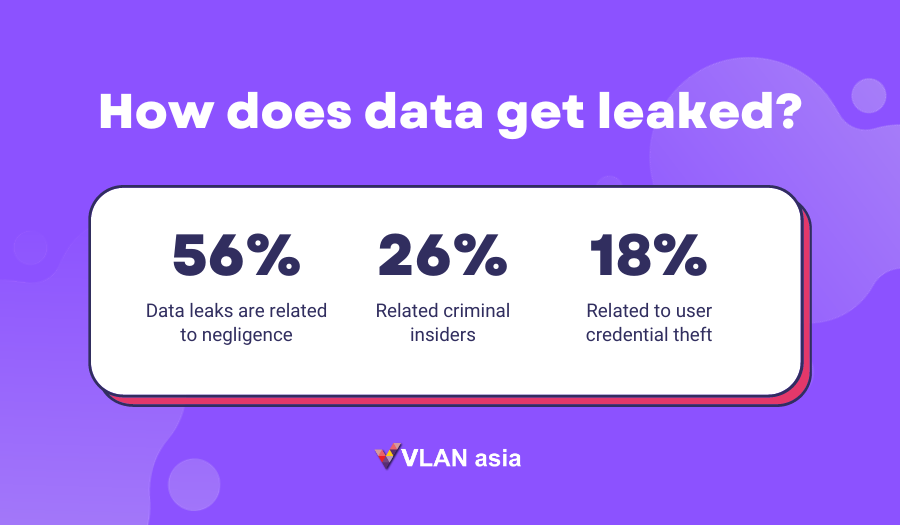 According to Acronis:
56% of data leaks are related to negligence.

26% are related criminal insiders.

18% are related to user credential theft.
In some cases, perpetrators could also be your own employees who leaked data unknowingly. Whether accidental or malicious, data loss can occur through email, the web, USB drives, and uploading via the cloud. Other causes of data loss include natural disasters such as floods, power outages, hardware failure, viruses and ransomware, software failure, and migration errors.
Data Breach and Data loss cases in Malaysia
According to a recent report by Fortinet, Malaysia experienced a staggering 57.8 million virus attacks during the first quarter of 2022, accounting for approximately 1.14 percent of all global cyberattacks. This surge in malicious activities has raised alarm bells, particularly in the realm of data breaches. In 2023, Malaysia will have encountered its highest-ever number of reported data breach cases in a single year, with a remarkable 15 cases reported each week, primarily stemming from ransomware attacks. This concerning trend has not only disrupted businesses but also sparked a corresponding rise in cybercrime and phone scams. These illicit activities have inflicted millions of ringgits in annual losses, underscoring the pressing need for robust cybersecurity measures and proactive data protection strategies within the nation.

What are the types of data leaked from an organisation?
Customer personal information

Intellectual property and trade secrets

Financial Data

Personnel files

Patient health information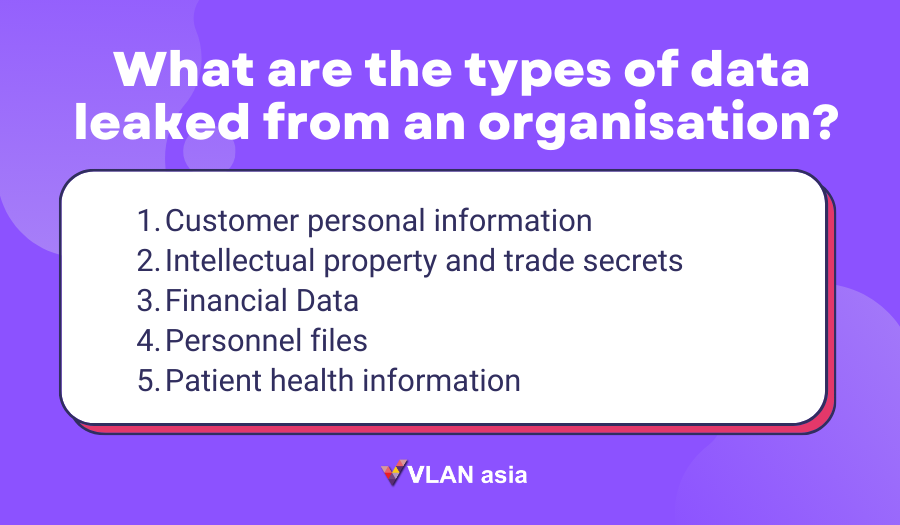 Identifying Data Loss Vulnerabilities
One might ask "What makes a business vulnerable to data losses?". Here are common vulnerabilities in IT systems that can lead to data loss:
Weak passwords: Insecure or easily guessable passwords create a vulnerability that attackers can exploit to gain unauthorised access to systems, potentially leading to data loss.

Unpatched software: Neglecting to apply regular software updates and patches can expose IT systems to known vulnerabilities, increasing the risk of data breaches and loss.

Malware and Ransomware: Malicious software, such as viruses and ransomware, can infect systems, encrypt or steal data, and result in data loss or the need to pay a ransom for recovery.

Phishing Attacks: Phishing attempts can deceive users into divulging sensitive information or installing malware, which can lead to data breaches and loss.

Inadequate Data Backups: Failing to implement regular and reliable data backups leaves organisations vulnerable to data loss due to hardware failures, cyberattacks, or accidental deletions.
With the vulnerabilities listed above, organisations should take proactive measures to address weaknesses in security systems to reduce data leakage and minimise downtime. We advise you to get a trusted data loss prevention (DLP) solution to protect your organisation's sensitive data. Ensure that the DLP allows your organisation to protect your customers' data against leaking to unauthorised parties. In addition, consider a DLP solution that provides a unique, behaviour-based approach. All of these are present in Acronis Advanced Data Loss Prevention.
Why Acronis Advanced Data Loss Prevention?
Compliance: Based on the Personal Data Protection Department, or PDPD (for Malaysian residents), the agency oversees the processing of personal data of individuals involved in commercial transactions by using user data that is not misused or misapplied by the parties concerned. Users need to be protected to prevent any form of abuse against the storage or processing of personal data of individuals, public, and private sectors in Malaysia for commercial transactions, as stipulated under the Personal Data Protection Act, or PDPA.

Sensitive information protection: Companies can have important intellectual property and trade or state secrets that could put your organisation's financial health and brand image at risk, which can be lost or stolen. These context-based classifications of intellectual property can be protected against unwanted infiltration of data. Acronis's advanced DLP can protect on-premises data, cloud bases, or endpoint services.

Data visibility: With Acronis Advanced DLP, users can gain additional access to data movement. Using this feature allows you to understand how users in your organisation interact with data and how effectively DLP risks are remediated with this service.
The Consequences of Data Loss
Experiencing data losses can be detrimental to a business. What's at stake are:
Your company's brand reputation: Data loss can erode the trust and confidence of customers, partners, and other stakeholders in the business. Sensitive information such as personal data, financial records, and trade secrets can expose the business to legal liabilities and reputational harm. Customers may lose faith in the business and switch to competitors, resulting in customer churn and reduced loyalty.

Business and revenue loss: Data loss can disrupt the normal operations and productivity of the business. It can cause delays, errors, inefficiencies, and missed opportunities. Data loss can also affect the quality and availability of products and services, leading to customer dissatisfaction and lower sales. Moreover, data loss can incur additional costs for data recovery, data breach notification, legal fees, and compensation.

Noncompliance risks and fines: Data loss can violate the regulatory requirements and industry standards that govern the protection and management of data. For example, businesses that handle personal data must comply with the General Data Protection Regulation (GDPR) in the European Union or the Personal Data Protection Act (PDPA) in Malaysia. Failure to comply with these regulations can result in hefty fines and sanctions.
Choosing the Right Cybersecurity Solution
To construct a checklist of criteria for evaluating cybersecurity solutions, you can follow these best practices:
Task a risk-based approach: Evaluate if the control being evaluated will truly help your organisation reduce risk. If it does not, then your time and budget may be better spent elsewhere.

Define your requirements: Map out your high-level requirements for an optimal solution that meets your criteria. Classify "must-have" vs. "nice to have" features. Align whatever technology you're evaluating with how it fits within and integrates into the current tech stack, as well as what your team can actually support.

Have a test plan. Documented test plants help to truly compare solutions. Follow a consistent methodology so that you can quickly score solutions side by side.
CTA 1
Acronis Cyber Protect Cloud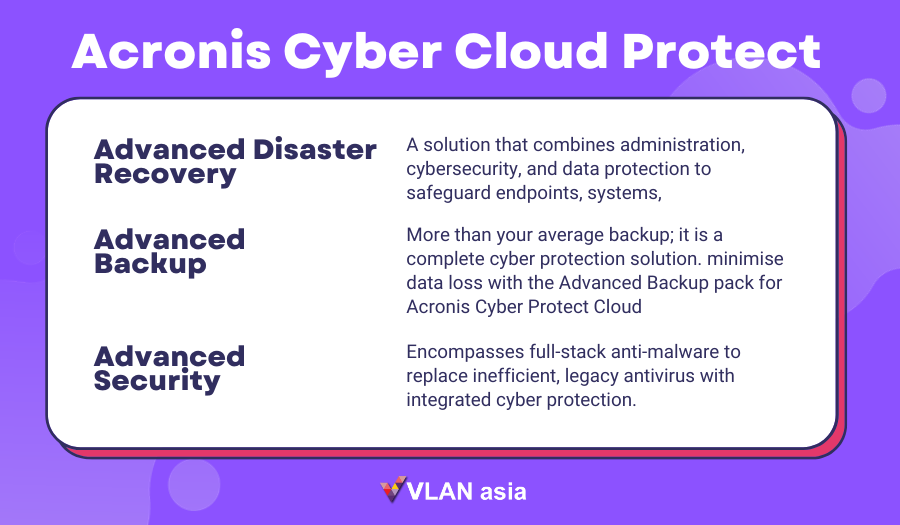 Acronis Cyber Protect Cloud is the answer to many of the challenges that businesses face in the event of a crisis, such as data loss, system downtime, or operational disruption. However, not all cloud protection has the answer to all the needs and problems of an organisation. Therefore, it is better to have a cloud protection solution that encompasses various aspects such as advanced disaster recovery, advanced backup, and advanced security. By having a comprehensive protection plan, businesses can ensure that they can recover their critical data and systems quickly and efficiently, minimising the impact of a disaster on their customers, employees, and stakeholders. For example, we believe that Acronis Cyber Protect Cloud Plan has the perfect cloud security solution for your business. The solution encompasses the following in relation to data loss cases and their features:
Advanced Disaster Recovery
A solution that combines administration, cybersecurity, and data protection to safeguard endpoints, systems, and data is Acronis Cyber Protect Cloud. Its machine intelligence-driven automation and integration remove complexity, allowing you to better safeguard clients while controlling expenses. Upgrade your disaster recovery service for free by adding vital cyber security. Achieve a distinct edge over competitors and boost your revenue with essential cyber security features that safeguard every endpoint.
Expect these results with Advanced Disaster Recovery:
Reduce Downtime: By setting up IT systems in the Acronis Cloud with complete site-to-site connectivity and the capacity to recover them to identical or different hardware, you may have clients up and running in a matter of minutes.

Minimise Complexity: There is no requirement to manage, add, or learn another platform. It's a single interface-managed solution that lets you create a comprehensive cyber protection service for data, systems, and apps.

Grow Recurring Revenue: By giving clients the disaster recovery services they want, you may raise your monthly recurring revenue while providing greater value, strengthening client relationships, and increasing retention.
Advanced Backup
It is more than your average backup; it is a complete cyber protection solution. With the help of best-in-class backup and recovery technology that is enhanced with cyber protection, you can easily minimise data loss across your clients' infrastructure and workloads with the Advanced Backup pack for Acronis Cyber Protect Cloud. This allows you to extend the cloud backup capabilities your clients need to protect their data proactively.
Make sure customers never lose data—even in between planned backups—to bolster your data protection offerings. Expand backup functionality to application clusters, SAP HANA, and Oracle databases. Harness the power of one solution to provide your clients with the all-encompassing cyber security they require.
What to expect for Acronis Cyber Protect Cloud with Advanced Backup in terms of backup and data protection:
Increase Automation and Productivity: Cloud backup features like continuous data protection will always try to save you time while guaranteeing that you prevent client data loss, enable you to deliver almost zero RPOs, and prevent any downtime.

Deliver the Most Secure Backup: To keep your clients' data safe, Acronis uses a special technique that combines cloud backup with cyber-protection tools like antivirus and anti-malware.

Protect More Workloads on More Platforms: Protect over 20 platforms, such as Oracle DBMS Real Application Clusters, SAP HANA, Microsoft Exchange, and Microsoft SQL Server, from a single console.
Advanced Security
Acronis Advanced Security encompasses full-stack anti-malware to replace inefficient, legacy antivirus with integrated cyber protection. Avoid further cyberthreats for customers with few resources. With full-stack anti-malware protection and remediation services, the Advanced Security add-on increases the endpoint protection capabilities of Acronis Cyber Protect Cloud, allowing you to reduce the risks for your clients. Utilise enhanced automation and integration to streamline deployment, configuration, and management tasks.
Expect these results with advanced security:
Full-Stack Anti-malware: With an enhanced virus signature database, URL filtering, anti-malware scans for backed-up data, and an improved virus signature database, you can increase detection rates and speed to capture more threats.

Security Automation: With intelligent and simple protection policy administration, automatic app permissions for custom lists, automated malware scans, and automatic updates of antivirus definitions throughout the recovery process, you can easily deliver services.

Efficient Forensics: Gather digital evidence and store it in a safe central repository to facilitate in-depth post-event investigations and appropriate remediation while minimising expenses.
In conclusion, safeguarding business data is not just a matter of best practice but essential in today's digital landscape. Organisations must take proactive measures to identify and address security issues. By doing so, organisations can significantly reduce the risk of data breaches and minimise downtime, safeguarding their financial stability and reputation. This article also discussed the importance of investing in trusted cybersecurity software, which is a critical step in this process. Such software offers early detection capabilities, allowing for immediate remediation and minimising the window of exposure. Automated protection, which includes patching vulnerabilities, is essential for reducing the risk of exploitation by cybercriminals.
As discussed, Acronis Cyber Cloud Protect offers a comprehensive solution for data loss prevention. Its range of plans and features, including advanced disaster recovery, advanced security, and backup, ensures that your organisation is well-equipped to handle a variety of data loss scenarios.
We strongly encourage IT managers to take proactive steps to protect their organisation's valuable data. Don't wait for a data loss incident to realise the importance of data protection. Start today by evaluating your current data protection strategy and considering the implementation of solutions like Acronis Cyber Cloud Protect to fortify your defences and secure the future of your business. Your data is not just an asset; it's the lifeblood of your organisation; hence, organisations must protect this data at all costs.