Simplify Customer Support with Zendesk Integration and Microsoft Teams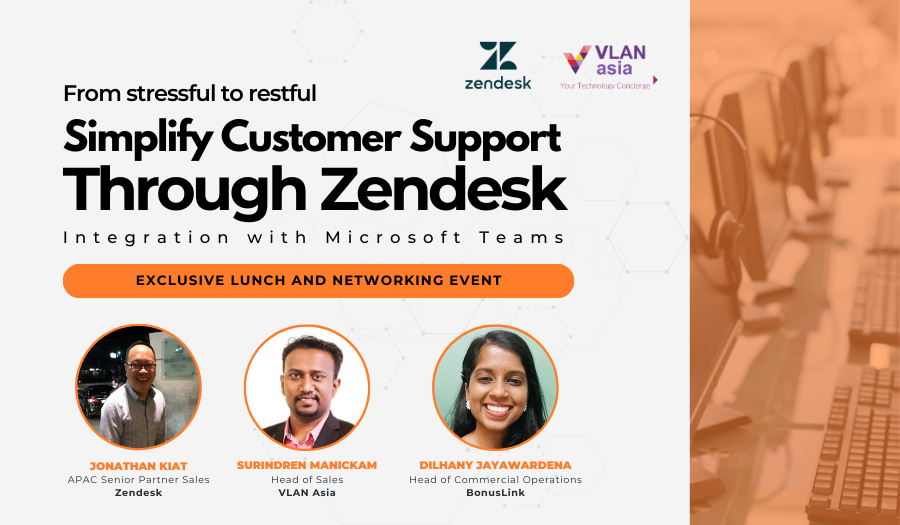 On 17th October 2023, VLAN Asia, a prominent IT solutions provider, organised an insightful event titled "Simplify Customer Support through Zendesk integration with Microsoft Teams" at Aloft Kuala Lumpur Hotel. The purpose of this event was to educate embark on a journey to uncover the boundless potential of how Zendesk and Microsoft Teams work in perfect harmony, all in pursuit of creating a customer support experience that's not just efficient but seamlessly exceptional businesses. In this event, we gave our participants the unique opportunity to witness the tools in action, showcasing how Zendesk and Microsoft Teams are being leveraged by businesses to elevate their customer support, foster collaboration, and unite their teams for success.
The Importance of Clear and Effective Communication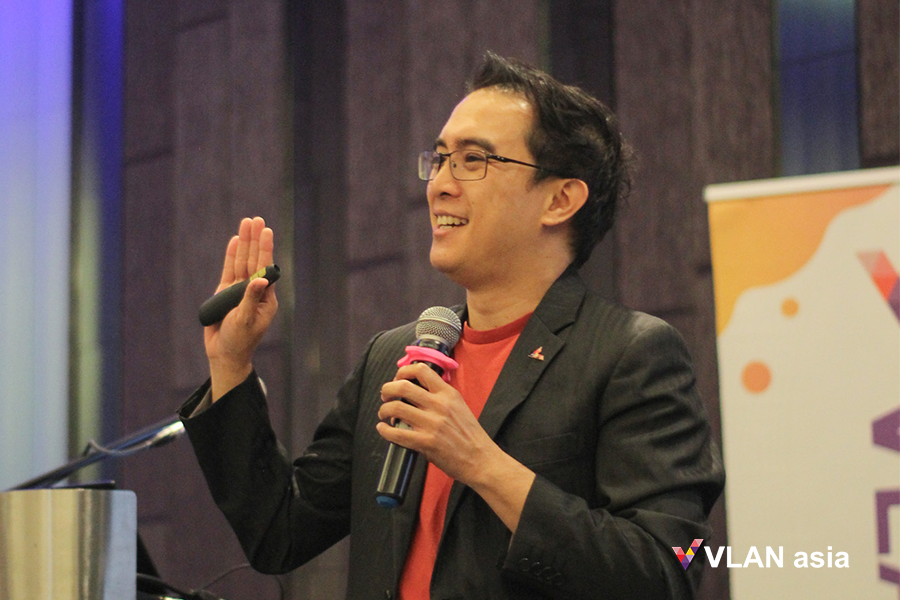 In his speech, Lance passionately delved into the crucial role of clear and effective communication in the art of problem-solving for customers. He emphasized the challenge of convincing customers that we possess the solutions they need, and we have a mere 7 seconds to make a lasting impression and demonstrate our competence in resolving their issues.
The key takeaway from Lance's address was to maintain a genuine curiosity about the customer's problems, approach questions in a positive manner, strive to understand the customer's frustrations, and address their concerns. He encouraged treating these conversations as a journey to ascend a wall, rather than a contentious cage fight, in order to reach the pinnacle of effective problem-solving.
Forging a Powerful Alliance: Enhancing Collaboration through Communication and Support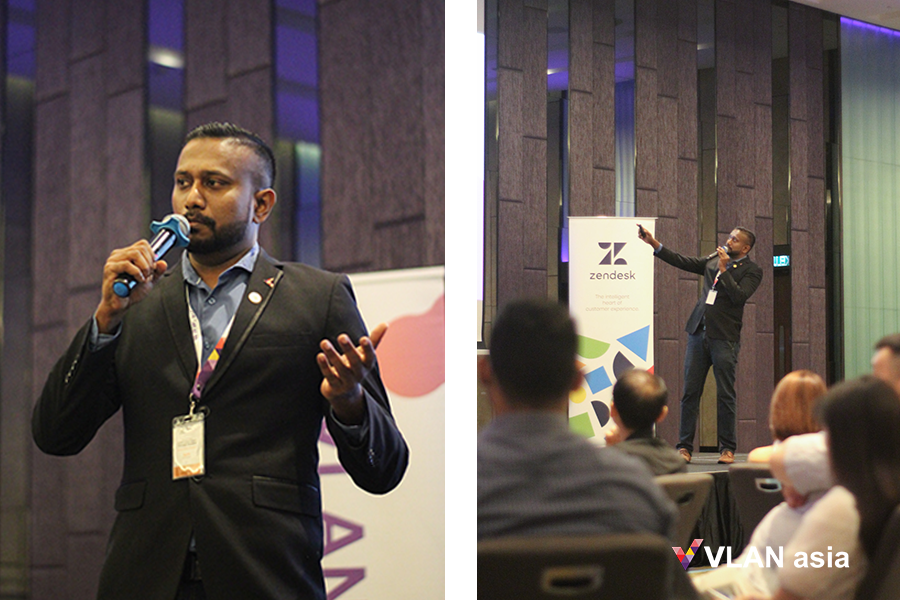 Surin highlights the critical issues that arise when organisations fail to harness the power of digital communication tools. The absence of such tools results in a lack of visibility, resource inefficiency, customer churn, negative customer perception, and inconsistent communication. To address these challenges, it becomes essential to explore proactive solutions. One key strategy involves investing in Customer Experience (CX) teams to streamline operations and address customer inquiries. By unifying communications through platforms like Microsoft Teams and Zendesk, organizations can leverage AI tools to enhance efficiency. Solutions such as Zendesk and AI capabilities can assist in summarizing, suggesting, and infusing emotions into conversations, making them easier to understand.
According to a 2023 CX trend report by Zendesk, a substantial number of professionals are interested in merging service data with various aspects of their business, including customer, product, sales, and marketing data. With a growing number of Microsoft users, the integration of Zendesk with Microsoft Teams emerges as an all-encompassing solution to enhance productivity and efficiency. This integration offers a range of benefits, including the simplification of support workflows. Users can effortlessly view, create, and update Zendesk tickets directly within Microsoft Teams, complete with comprehensive context, internal notes, attachments, and public replies. This streamlined approach to ticket management through MS Teams empowers Zendesk users and support agents to provide more efficient and effective customer service.
Investing in CX becomes especially important if you want to maintain your customer base during times of economic uncertainty:
72% of leaders in your region

indicate

they will increase their CX budgets over the next year

69% of leaders in your region

indicate

their

organisation

is putting a

greate

r

emphasis

on

retaining

customers due to expected economic conditions



Develop a digitalisation roadmap that aligns with how consumers expect to interact with bots in the near future. Here is a breakdown of what consumers in your region want from AI in customer services:
The ability to handle more complex questions

Conversational communication

Personalised

responses to questions

Can handle multiple questions simultaneously
A Zendesk and Microsoft Teams Integration Demo Session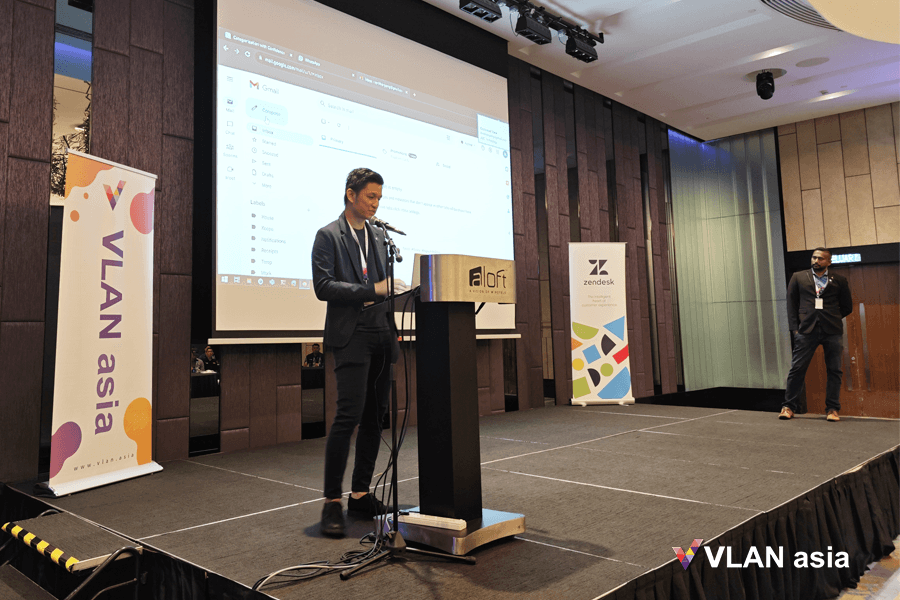 The demo session showcased how Zendesk and Microsoft Teams seamlessly integrate, empowering agents to communicate effectively and revolutionize customer support. Agents can access Zendesk tickets directly within Microsoft Teams, streamlining communication and enhancing efficiency. This integration eliminates the need for constant switching between platforms, saving time and ensuring a streamlined workflow. The demo also highlighted Zendesk's AI capabilities, which summarise and suggest responses, improving the customer experience. Overall, the demo demonstrated the potential of these tools to transform customer support operations.
Panelist Session, the Key Takeaways
Organisation readiness in AI is important than ever

As AI continues to transform the workplace, it's more important than ever for organizations to be prepared for the latest AI tools and technologies

Consolidation is key: these places emphases the importance of streamlining and centralising customer support and service operations. This means companies should aim to unify their customer support channels such as email, phone, chat and social media, into a single platform or tool – consolidation also helps companies to reduce costs and improve efficiency by eliminating redundancies and improving communication between teams.
Direction for digitalisation is important: Emphasises the need for a clear roadmap or guidance on how effectively incorporate digital technologies into various aspects of an operation or project. This direction involves setting goals and defining the scope of digitalisation, allocation resources and identifying key technologies to adopt and establishing a timeline for implementation. With clear direction, it helps to avoid confusion, minimises potential setbacks and ensures that digital transformation process aligns with the overall objectives and goals of the organisation or project. It's about having a well-thought-out plan to navigate complexities and challenges associated with integrating digital technology into existing systems and processes.

Employee experience is crucial in overall Improvement of CX: When employees have a positive and supportive work environment, they are more likely to be engaged, motivated, and able to deliver better service to customers
Acknowledgements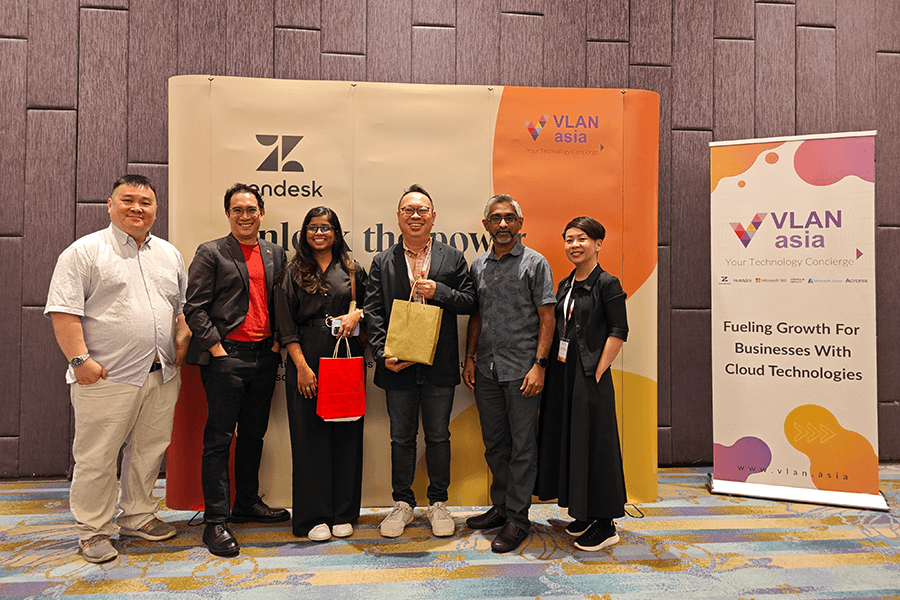 We want to express our sincere gratitude to our remarkable speakers, Lance Cheang, Li ling, Surin Manickam Jonathan Kiat and Dilhany Jayawardena, who lent their expertise and insights about digital tools for customer service.
In summary, VLAN Asia's event "Simplify Customer Support through Zendesk integration with Microsoft Teams" is a invaluable event that gave participants insights into simplifying custome support using two powerful tools such as Zendesk and Microsoft Teams to centralise communication channels into one platform. By highlighting the benefits of these software and CX trends for the year 2023, attendees have gained practical knowledge to navigate complexities of customer support to become more efficient. With a proactive approach and the right systems in place, businesses can position themselves as industry leaders thriving in the evolving marketplace.
At VLAN Asia, we understand the significance of customer support software in preparing businesses to simplify their customer support. As an experienced IT solutions provider, we offer comprehensive assistance with implementing Zendesk and Microsoft teams to empower organisations to achieve greater productivity and efficiency.