Share your Ideas Efficiently with SharePoint.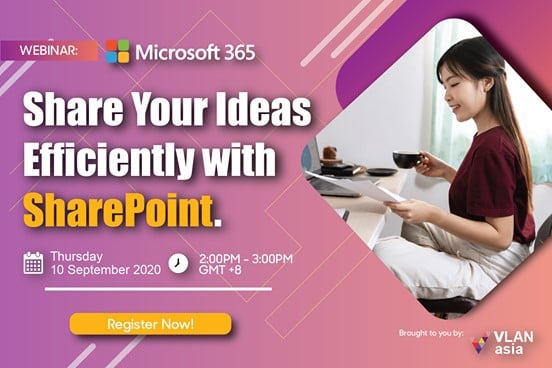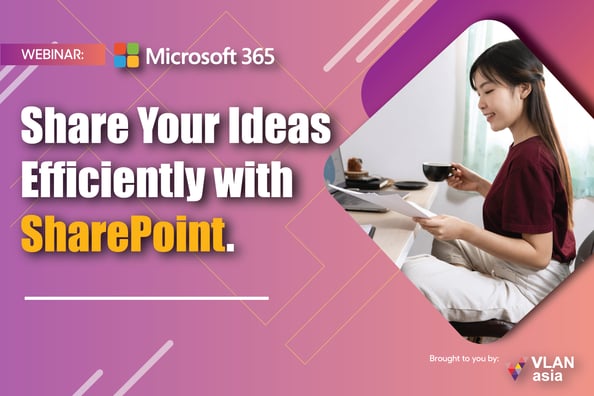 Do you have an idea, document, or even data you would like to share with your organisation internally while using Microsoft Teams to collaborate with your team? Fret not, we will be recapping on the webinar where we shared features of Microsoft's SharePoint with you, and how you can efficiently manage them all.
As you are using Microsoft Teams, most of the back-end data will end up at your SharePoint. SharePoint allows you to create an intranet website for you to share with your entire company on your current works. You can secure, organise, and share information on all devices and browsers as well. Besides, there are many ways to create SharePoint, even without Teams as a standalone SharePoint.
There are two ways to create a SharePoint – either via team site or communication site. The team site is directly connected to the M365 group and it creates a bunch of e-mails and applications related to this team site, making it a more collaborative platform. As for the communication site, you can create an internal website for a company on an event or product launch, akin to a UI interface. On top of that, uploaded documents, landing pages, templates for a specific department, or the latest update that was created for your company's SharePoint can also be accessed by your international colleagues.
Furthermore, you can create and customise new groups or sites for your department or others, and even integrating Microsoft Forms, Calendar, Planners, List, and many more applications to SharePoint.
Having said that, collaboration becomes more convenient with integration directly from SharePoint through a dedicated communication channel on Teams for a specific department or the entire organisation. Hence, also allowing you to view whatever that is on your company's SharePoint via Teams.
If you wish to work offline, SharePoint allows you to sync all documents uploaded to SharePoint to your local PC.
Another interesting feature of SharePoint is that you can seamlessly integrate Teams with it by creating a dedicated tab to the planner view on SharePoint linked to an event or task you assigned on Teams. If you have a product list already published on SharePoint, you can easily integrate it directly to your Teams app by adding a Product List tab. Found an interesting article you want to share with your team? Simply create Quick Links on your SharePoint and add the URL of the article to do so.
Point to note that SharePoint's client app and browser version will have the same document, data, update, or presentation you have edited and uploaded.
Before we conclude this recap, SharePoint's co-authoring feature allows for multiple users to work on a single document on Teams together at the same time, and even on your File Explorer. Talk to us now to see how you can benefit from this amazing application too!