Prepare for Change - The Future of B2B e-commerce.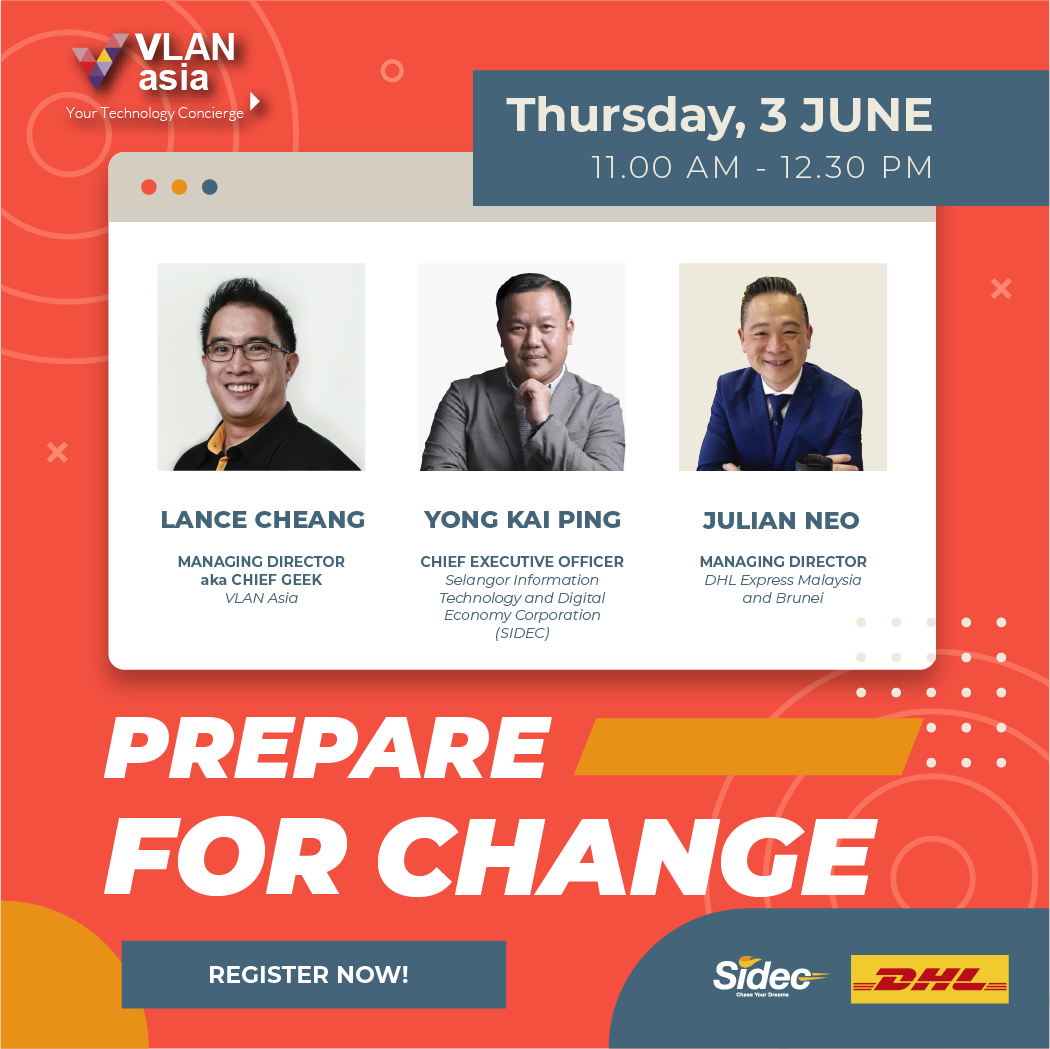 With Business To Business (B2B) E-commerce increasing tremendously over the past year, it has become even more imperative for businesses to digitalise their operations. This is according to a panel of experts including Julian Neo, Managing Director of DHL Express Malaysia & Brunei, Lance Cheang, Managing Director of VLAN Asia, and Yong Kai Ping, Chief Executive Officer of Selangor Information Technology & Digital Economy Corporation (SIDEC), discussed the issue during a Webinar on Wednesday (June 3) titled "Prepare For Change: The Future for B2B E-commerce And How To Adapt To New Business Norms".
During the webinar, Neo shared that DHL recently released a white paper predicting that online
B2B is set to increase to more than 70% by 2027. "Covid-19 has driven a permanent shift in consumer behaviour, and those same buyers are maintaining their new preferences in the B2B space," he said. "Significant sales are on the table for merchants who adapt to a market that is increasingly comfortable using E-commerce platforms for its procurement needs. "As the current normal of restricted movement continues to disrupt conventional trade, digitalisation and international shipping offer businesses a strong foothold for economic recovery and growth opportunities."
The pandemic has also seen more companies undergo efforts to digitalise their businesses which is even more essential now than before, according to Cheang. "Companies cannot avoid digitalisation. The longer they wait, the further behind you'll fall," he said. "Last year, we saw a lot of companies go online, on social media and do digital marketing on a large scale, even ourselves. This year is the year of consolidation. Now that companies have started these new channels, they will need a way to manage all their social media, customer experience and other services efficiently, on a single platform. "Systems enable speed. The faster you can personalise your customer experience, the quicker you can go to market. Tools like Microsoft 365, Zendesk and HubSpot allow you to do that, with Microsoft Azure being the solid backbone infra that ties the whole business together." Companies in Malaysia that want to digitalise have no lack of support from the government and private sectors, but the biggest problem right now is getting started. "This can be very daunting and potentially expensive, especially for those who are not so tech savvy," says Cheang, while adding that it's very affordable for even small companies to come on board. "It actually doesn't cost a lot of money to digitalise one's company because It's all on a subscription basis, hence there is very little infrastructure cost, and very little capital expenditure involved," he says. "There is no point buying a one-size-fits-all system that doesn't work. We've all seen white elephant systems that cost a bomb, where only 10% is used, and the rest just sit there unutilised.
"That's where a company like Vlan comes in. We will do our best to understand a business first, and then customise a solution that will actually help the business to go digital." Vlan also helps companies to apply for grants like the Selangor SME digitalisation matching grant offered by SIDEC, in which the Selangor state government will provide a 50% matching grant or maximum of 5000 for each company to subscribe to additional service provider.
The total of the matching grant is RM5mil, which is expected to benefit 1000 SMEs in Selangor,
said Yong. "The five digitalisation areas covered under the grant are e-commerce, human resources and payroll systems, cloud accounting, digital marketing, and electronic point of sales, and payment gateway as well." He added that the process of application for the first batch of the grant started in April and has been extended to June 15. The second batch will open for applications in August.