MoU Signing Ceremony Between Vlan Asia and Supplycart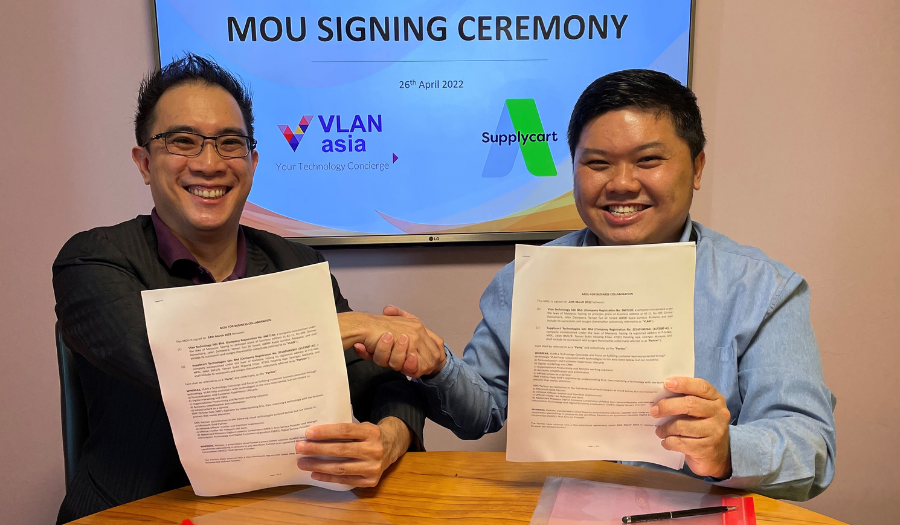 Kuala Lumpur: On April 26 2022, Managing Director of Vlan Asia, Lance Cheang, signed a Memorandum of Understanding (MoU) with Supplycart CEO, Jonathan Oh at Vlan Asia HQ Glomac Damansara, Kuala Lumpur. Supplycart a Malaysian tech company specialising in e-procurement software. The direct connection between the two partners will enable business innovation and growth using technology in a variety of industries.

The partnership will benefit both Vlan Asia and Supplycart as they are complementary products and services. Both companies will utilise this opportunity to access a wider market to provide a wide range of technology solutions to customers and expand their company's portfolio.
Supplycart shall enhance the partnership by functioning as a company's backbone, supporting the companies' purchasing and finance functions to establish a seamless request to pay platform using the ADAM procurement software. The Key solutions of this software includes digital Request-Approval, PO generation, vendor management tools, and payment request functions. Additionally, the software supports integration with accounting or ERP systems such as Xero, Sage, Quickbooks, Microsoft Dynamics and more.

Vlan Asia is a fast-growing total solutions provider serving regional customers across various industries, focusing on small and medium businesses. Vlan Asia specialises in online productivity tools, cloud server hosting, administrative software, managed services, and customised cloud solutions to match your specific business requirements. Cloud solutions such as Microsoft 365 and Azure, Zendesk, HubSpot, Acronis and Xero.
Supplycart is a Malaysian technology firm with a presence in Singapore and Hong Kong that developed ADAM, a cloud e-procurement platform, transforming pen, paper and emails into digital forms and approvals across organisations. Streamlining workflow and reducing manual input of data. Collaborate across Requestors, Procurement & Finance. Serving clients in a variety of industries, including retail-services, education, health & wellness, logistics, NGOs and fast-moving consumer goods (FMCG).
Get in touch with Supplycart and begin digitising with ADAM procurement software