MoU Signing Ceremony Between Vlan Asia and Kakitangan.com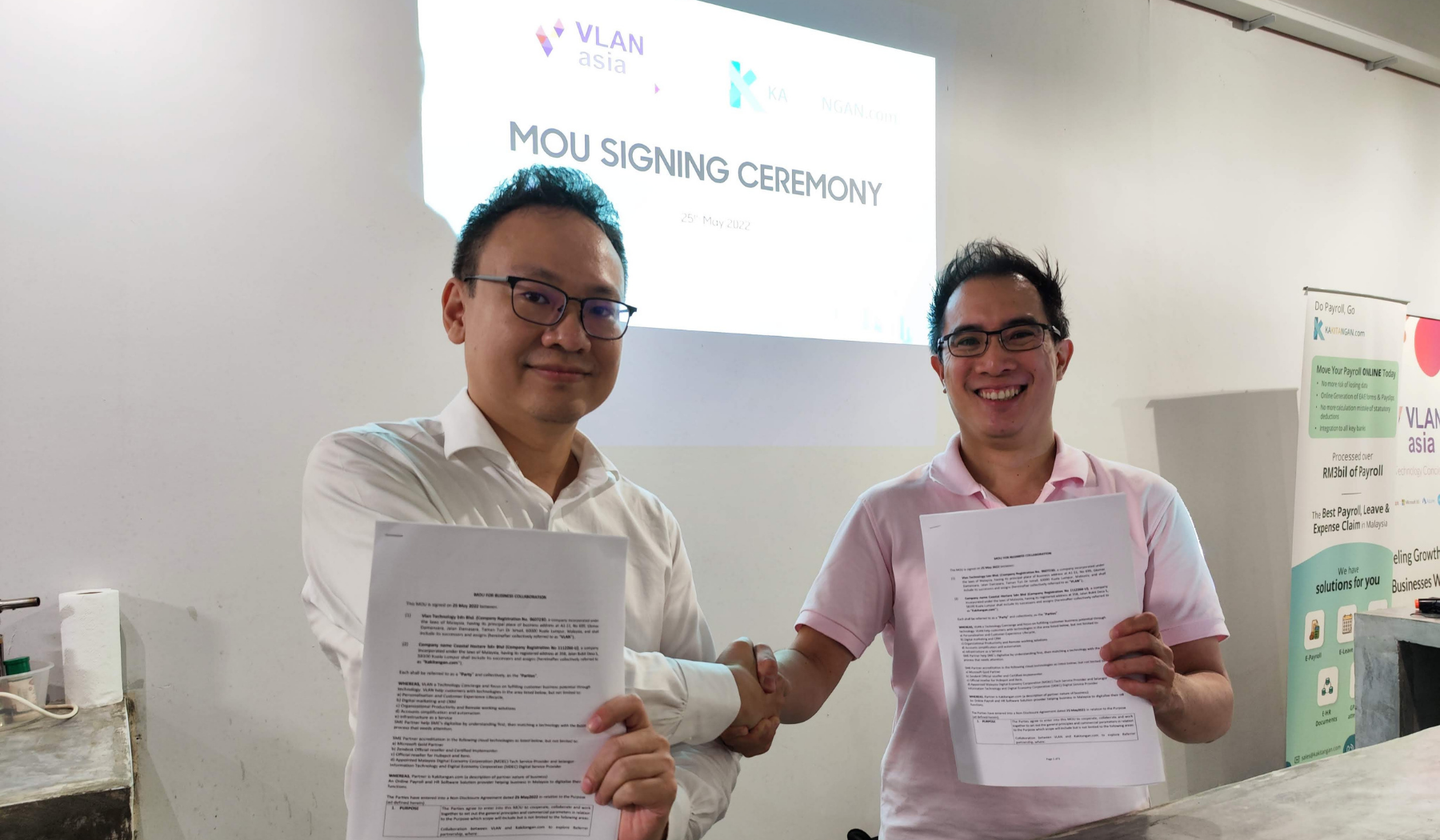 Petaling Jaya: On 25th May 2022, Managing Director of Vlan Asia, Lance Cheang, signed a Memorandum of Understanding (MoU) with Kakitangan.com founder, Effon Khoo at Gure Cafe, Petaling Jaya. Kakitangan.com is an online HR software for Malaysian businesses that assists with payroll, claims, leave management, company benefits and more.

The partnership will benefit both Vlan Asia and Kakitangan as they complement each other's products and services. Both companies aims to create more synergy, provide customers high-value technology solutions, gain access to a wider market and broaden their company's portfolio.
Lance Cheang, CEO of Vlan Asia, explains that the key here is to leverage off each other's strengths and unique offerings to serve customers better.
Effon Khoo, Founder of Kakitangan, reiterated that their objective is to create a more synergetic partnership between Vlan Asia and Kakitangan.com to enable them to offer new value propositions to customers, so that they can perform, grow, and become a stronger company.

Vlan Asia is a fast-growing total solutions provider serving regional customers across various industries, focusing on small and medium businesses. Vlan Asia specialises in online productivity tools, cloud server hosting, administrative software, managed services, and customised cloud solutions to match your specific business requirements.
Kakitangan.com is among the leading online payroll and Human Resource Software as a Service platform in Malaysia serving small and medium enterprises (SMEs). The mobile-friendly platform comprises of modules for payroll, employee expense claims, leave, benefits and GPS Time attendance. Our mission is to save time and provide greater efficiency for small business owners and enable them to focus on what really matters, which is growing their business.
Visit Kakitangan.com website to find out more about their services.