Microsoft Teams Tips And Tricks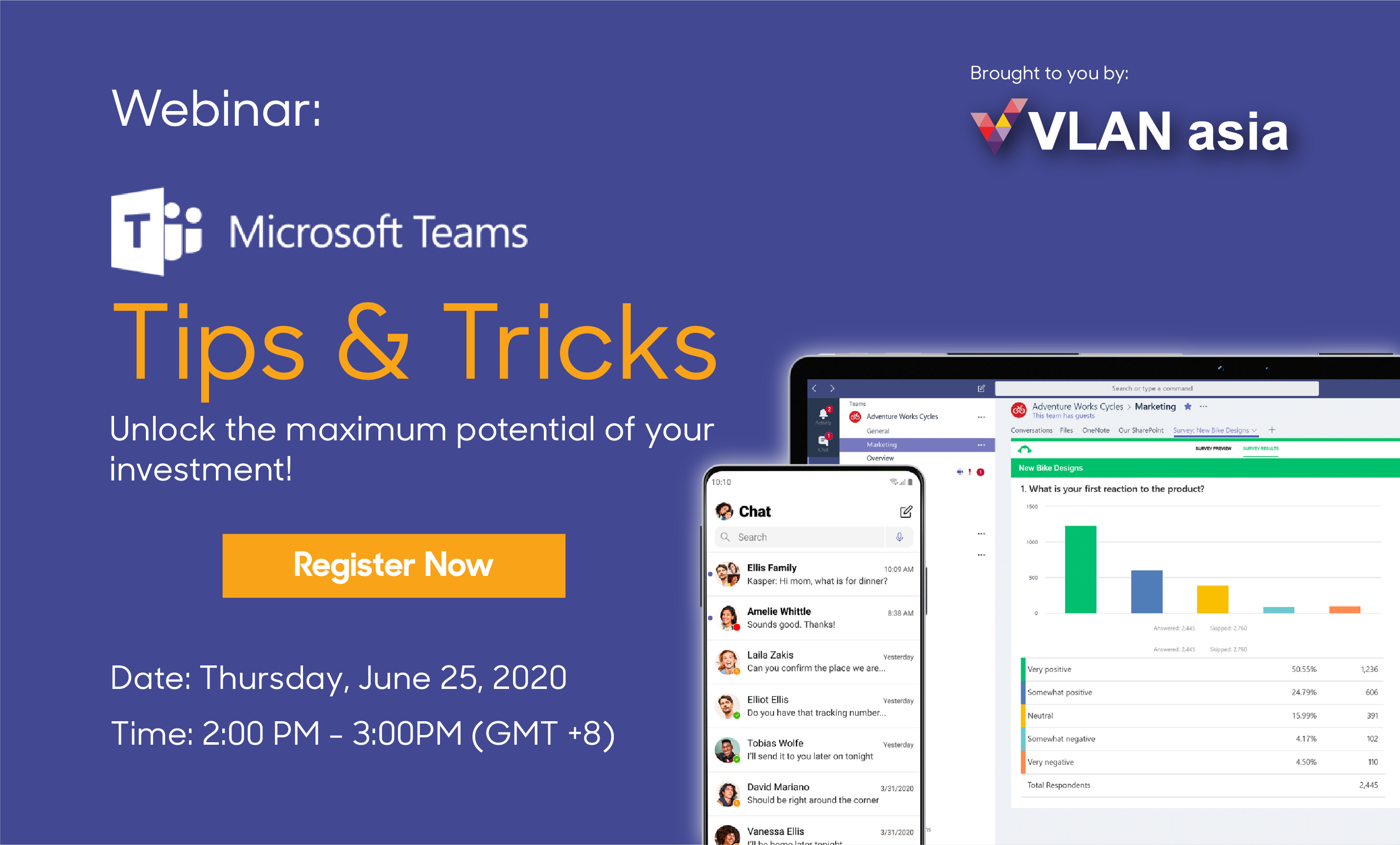 As we are all pivoting towards delivering our products and services to our customers in the best possible way, it is only achievable with strong support and teamwork within the company. While working from home has become the new normal, using collaborative platforms such as Microsoft Teams have become must-haves in order to keep track on all things when we operate remotely.
There are many hidden functions in Microsoft Teams that can help you to communicate and collaborate more efficiently with your team. Here are some top useful ones that will ease your daily work tasks and save your time.
Just like many social media apps, we use the @user to notify and mention someone in a certain post or comments. This helps us stay up to date with the latest conversations. Just go through your chat in "Start a conversation" text box and type @ to mention someone.
This function enables a lot of people in different departments to send emails and notify their team via teams. To help them stay up to date on relevant or new information. Just choose a channel from a team's group and click on the ellipsis button. You can see "Get Email Address" to copy to your clipboard. Paste the email address in your email, click send and it will be sent to both that teams group and the group's email.
Increases speed in your navigation through apps in teams and efficient in shortcuts.
Type "/" into the search box and a list of shortcuts and commands will show up.
Avoid numerous file versioning on a single document and easily connect and co-author with a colleague.
Go to Teams channel and look for the files tab. Choose a document you want to edit, and it will open office online. From there you can view who is editing the same document.
Scheduling Assistant in MS Teams
See suggested time to schedule a meeting with everyone's best available schedule.
Once you have created a Teams meeting, go to the scheduling assistant. You can see participant's calendar and best suggested times to set a meeting based on everyone's availability.
Background Blur and Effects
Avoid cleaning your house or office with this cool hack! Let your participants focus on what's important and avoid distractions.
When you join a Teams call, click on the ellipsis option and choose background effects.
In-line Message translation
Break language barrier through in-line message translation.
Choose the message you want to translate, click on the ellipsis and choose to translate. This will translate the text to your local language.
Post important announcements
Send important announcements and notify your team in their news feed.
Go to the "start a new conversation" text box and click on the icon. Write your announcements and click on the "!" to send an important announcement.
See who you work with and organizational hierarchy to understand who's on their team, their manager and how they fit in the organization.
Open a chat with a teammate and click on "Organization"
Lighten up and have some fun! Share feelings react on posts or cheer a co-worker using personalized stickers and gifs!
Click on the smiley face and choose a sticker theme or click on the GIF symbol and send your best memes!

In our recent webinar, we shared these functions in a live demo. Find out more about these tips in the recording below and start working smarter today.