MDEC AUTOMATION AND BUSINESS DIGITALISATION GRANT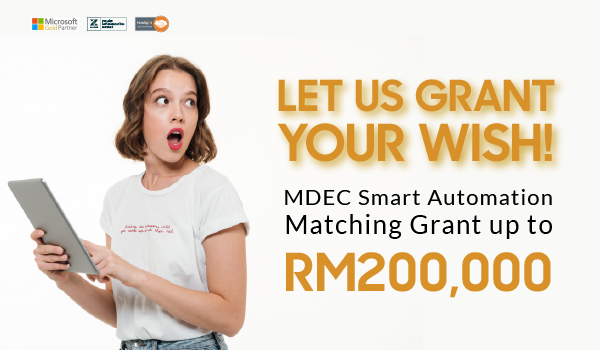 You are a Malaysian Small to Medium Enterprise (SME) entrepreneur and are considering a digitalised approach to your business operation and process, but you lack the financial resources needed to implement the digital tools and systems as the Covid-19 pandemic caused a domino effect in the business world with the sharp decline of corporations and SMEs worldwide. Staying afloat during this critical time is indeed a huge challenge for all entrepreneurs, but with the many advantages that come with the digitalisation of business processes, you're probably wondering who might be able to assist you in that endeavour.
Look no further. Malaysia Digital Economy Corporation (MDEC), an agency under the Ministry of Communications and Multimedia of Malaysia, has announced that it will expand support efforts for SME entrepreneurs like you to "make the digital leap in this era of unprecedented disruption" under the Malaysian Government's National Economic Recovery Plan (PENJANA) with the Smart Automation Grant (SAG) and the SME Business Digitalisation Grant.
Since you've read up to this point, we think you might be interested in reading further as we will discuss its fundamental objectives, eligibility of SMEs and its application criteria for the respective grants below.
SMART AUTOMATION GRANT (SAG)
This is a specific matching grant to help SMEs in automating their business processes and move towards IR 4.0. In an interview with The Malay Mail, according to the Chief Executive Officer of MDEC, Surina Shukri, she highlighted the Smart Automation Grant's main objective in providing SMEs assistance in overcoming business income and operation disruptions with digital adoption to increase their efficiency. SAG is an outcome-based grant whereby specific digitalisation benefits must be achieved with an increase in revenue followed by a reduction in business costs, process life cycle and man-hours at the early stage of development and implementation of projects.
The grant is available for 50% of the total project cost or up to a maximum grant cap of RM200,000.00, whichever is lower. At the same time, all successful applicants themselves must invest the remaining 50% of the project capital.
ELIGIBILITY CRITERIA FOR SAG
These are the imperative criteria to be adhered to at all time of application:
Services sectors: General Services and Professional Services Sector (include enterprise, sole proprietorships, partnerships and limited liability partnerships)
The SME has been incorporated under relevant Malaysian laws
Has a paid-up capital of RM 50,000.00
A minimum 51% of the company's equity must be held by Malaysian
Have registered business activities comprising of primarily traditional or non-technology activities from the service sectors
Not subject to any liquidation, bankruptcy or winding up orders
Has no ongoing concerns and are not dormant
Has entered into a written agreement with a technology partner for the development of the project
General Services Sector applicants must be incorporated in Malaysia under the Companies Act 2016 or Companies Act 1965. They must also demonstrate that they have an issued and paid up capital of at least RM50,000.00 with a minimum of 51% equity held by Malaysians.
Professional Services Sector applicants are required to provide professional services involving traditional and non-technology activities from the sectors not limited to providing professional services which includes, but not limited to
Legal
Accounting
Surveying
Engineering
Architectural
Consultation
Management
Employment and Security (Private Agency) Services
It must be noted that enterprises, sole proprietorships and partnerships must be registered under the Registration of Business Act 1956, while limited liability partnerships must be registered under the Limited Liability Partnership Act 2012.
Having said that, the qualified businesses in the services sector to apply for this grant are as follows:
Retail
Wholesale
Food and Beverages
Tourism
Logistics
Transportation
Education
Healthcare
Real estate
Professional and financial services
It must be noted that recipients of the Grant have to strictly adhere to the one (1) and three-month (3) project timeline requirement whereby project implementation to digitalise the business operation can only run for up to 1 month and a subsequent 3 months in post monitoring to achieve project outcomes.
SME Business Digitalistion Grant
As set out in the 2020 Budget, the Malaysian government favourably recognises digital adoption when more and more businesses are moving towards the technological sphere. Therefore, it introduces the SME Business Digitalisation Grant that will provide a 50% matching grant of up to RM5,000.00 per company for the abovementioned services. However, this matching grant will be limited to the first 100,000 applicants seeking to upgrade their systems that is worth RM500 million over 5 years. The government of Malaysia, through the Ministry of Finance, is working with SME Bank, Bank Simpanan Nasional and MDEC to manage the grant for eligible SMEs to adopt digitalisation in their daily operations.
These are the five (5) key digitalisation area that the Malaysian Government has identified, namely:
Digital Marketing / Sales
Electronic point of sales (e-POS) system
HR payroll system / CRM
Procurement
ERP / Accounting & Tax
As mentioned above, in order to facilitate the digitalisation of these key areas, an array of TSPs will be providing products and/or services relevant to the key digitalisation areas to all successful applicants of the SME Digitalisation Grant.
Recognising this need to support SMEs and mid-tier companies to be digitally equipped for the future, VLAN Asia is proud to be a Technology Solution Provider (TSP) under the SME Business Digitalisation Grant programme. We are providing Digital Marketing, Human Resources and Payroll and Procurement systems as value added services to all successful applicants.
Eligibility criteria for SME Business Digitalisation Grant
Applications for this Grant require that the SME must be owned at least 60% by Malaysians and is incorporated under relevant Malaysian laws. Next, a SME that has been in operation for at least one (1) year must have a minimum annual sales turnover of RM100,000.00, while a SME with at least two (2) years of operation must have a minimum annual sales turnover of RM50,000.00 (preceding two (2) consecutive years).
If you are a SME and would like to further enhance your digital capacity while discovering new revenue growth and expanding your market, MDEC provides capability building programmes that drives digitally powered business for SMEs and mid-tier companies to utilise, namely the 100 Go Digital and Digital Transformation Acceleration Programme. MDEC vows to expedite the digitalisation in the businesses with accelerated efforts to further transform business operations in this digital era.
Digitalisation might be a time-consuming pathway but it is absolutely rewarding and beneficial to every business to survive and thrive in any time, be it during a pandemic or otherwise. What are you waiting for? Your adoption for a digitalised business process might just be your saving grace! Take your first step with us as we guide you through the process. Drop us a message now and find out what suits you best!