Beginner's Guide to Wireless Mesh Network Systems for Home Usage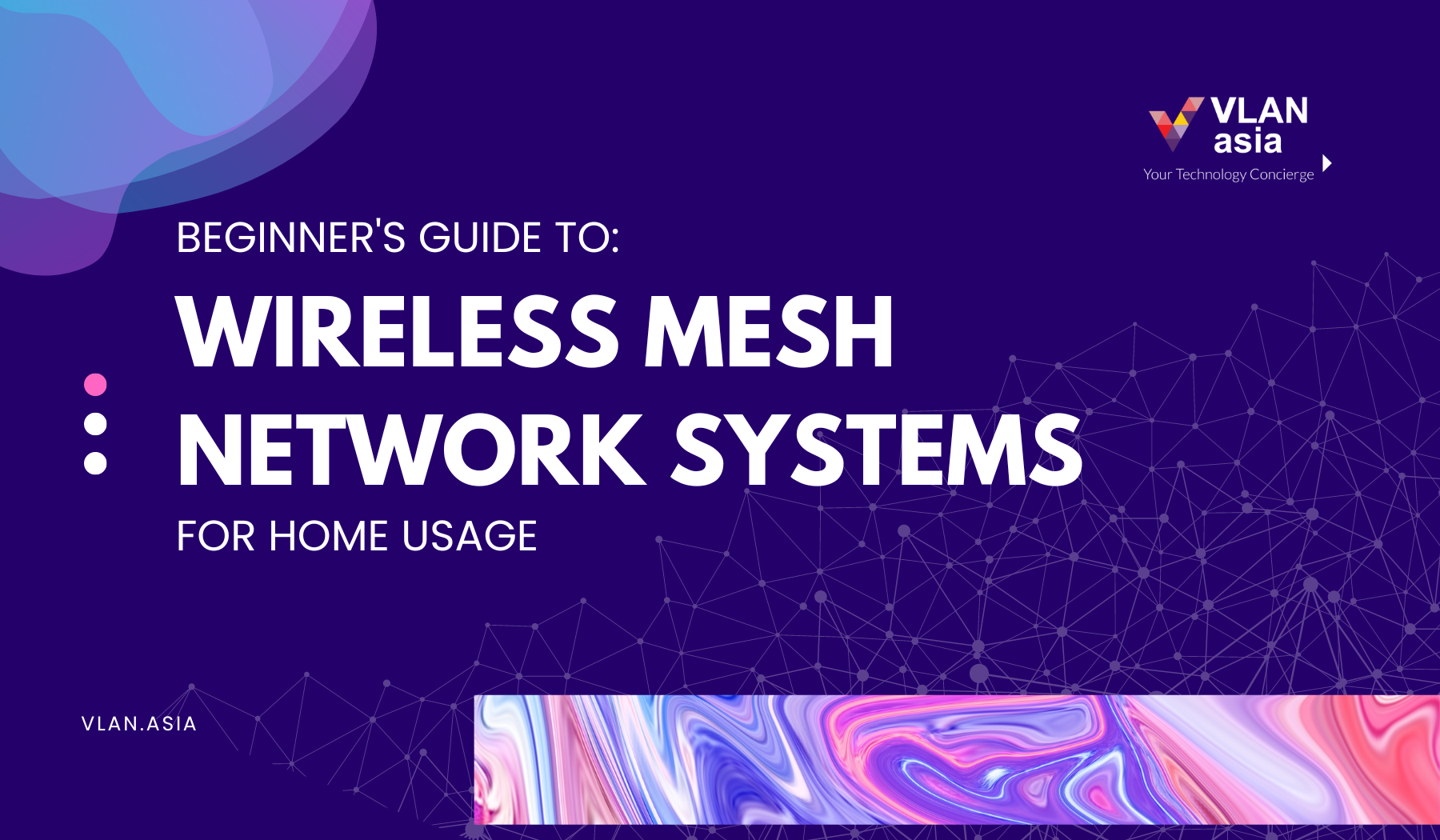 As we pivot our way towards hybrid work models, the need to have quick and dependable Wi-Fi coverage throughout the house is becoming increasingly important; even in the yard. No one wants to get disconnected during an important moment at work.
Before delving into details, let's define the basics of (insert the definitions: Wi-Fi Mesh, Dead Zones)
What is a Wi-Fi Mesh?

A Wi-Fi mesh system or Wi-Fi router is when two or more Wi-Fi access points are joined together to share a single network connection. Today, the use of Wi-Fi mesh networks in an area is expanding rapidly in the world of home networking because of its many advantages. While a traditional Wi-Fi network uses a central access point to connect the wireless nodes together and to the Internet.
What are Dead Zones?
Dead zones are areas within a wireless LAN where the Wi-Fi does not reach, which are caused by obstacles, range issues, or radio interference. Using Wi-Fi extenders, cables, or house plug adaptors, you can expand the network to eliminate dead spots and poor connections. In order to move between them, you must log out of one network and then log on to the other, which is the fundamental drawback of extending a network via wireless range extenders and access points.
Wi-Fi Mesh Networks
A big extended network can be easily built utilising Wi-Fi mesh kits from companies like Google, BT, Amazon, etc., and they typically don't require the use of cables. They are actually intended to replace an existing Wi-Fi network rather than simply extend it.
The kits consist of two or more Wi-Fi nodes that cooperate to provide a single Wi-Fi network (one SSID), and as devices move across the network, they can effortlessly hop between the nodes. However, not all end devices are capable of supporting this. These systems appear to have two different design philosophies. The Google strategy calls for installing Google Wi-Fi discs or access nodes in place of the existing WiFi network and home router. For instance, BT's alternative strategy is to keep the current internet router and upgrade the Wi-Fi network.
Wi-Fi Mesh Network Operation



It's crucial to realise that the access nodes must be able to communicate with one another, and to do that, the user has to conduct across a backhaul network, as the name suggests.
Ethernet or wireless are both options. Wireless backhaul is a feature that all Wi-Fi mesh network providers offer, although not all of them also offer Ethernet support.
The internode connection can be made in one of three ways.
Ethernet

Wi-Fi 2.5 or 5GHz shared

Wi-Fi 2.5 or 5GHz dedicated
Specific Wi-Fi Backhaul
The two frequency bands used by Wi-Fi are 2.5 GHz and 5 GHz. Clients (laptops, tablets, etc.) use them to connect to the network. Only the 2.5GHz band is supported by older devices.
To pass data and network traffic, the mesh nodes must also communicate with one another as demonstrated below:
One method makes use of a specific Wi-Fi network for the nodes' communication only (BT approach).

The approach is known as tri-band since the node offers a 2.4GHz network and a 5GHz network for the devices, similar to ordinary Wi-Fi access points, as well as another 5GHz network for inter-node communication. The communications line is concealed from view.

This would be quicker on a network with many clients than utilizing the shared mode, which splits the frequency bands/channels between the inter-node connection and the client connections.

The alternative strategy, as employed by Google as an example, uses a dual-band access point that connects to both a 2.4GHz and a 5GHz network.

The same networks as the end devices are used by the inter-node messaging.

A dedicated back haul network typically provides faster connections than a shared one.
Wi-Fi Mesh Network
By adding more nodes, you can increase the size of an existing Wi-Fi mesh network, but you must utilise components made by the same company. When using Wi-Fi backhaul, the TP Link Deco series has a recommended 10 unit restriction, but not if using Ethernet backhaul.

Mesh Wi-Fi  6
Wi-Fi 6 is the most recent Wi-Fi standard, and it offers Wi-Fi 5's speeds and range improvements. The biggest problem is that it only works with extremely latest technology.

Mesh Topology
As opposed to employing a daisy chain architecture, a star network topology is favoured since it offers reduced latency and higher connection rates.

Additional Features
They offer Wi-Fi access as well as cutting-edge services that are not available on typical home Wi-Fi networks, such as:
Scheduled Internet access

Pause Internet

Secure Guest networks

Voice control using Alexa
A Wi-Fi Mesh Network: Do You Need One?
Needing a Wi-Fi mesh depends entirely on your situation. If you are encountering issues with loading web pages, checking emails and streaming videos, chances are you would require a stronger Wi-Fi connection. .Setting up a mesh system would improve and optimise your Wi-Fi coverage area at home to achieve online tasks better.